Home
Our malleable cast iron foundry was established in 1883 and started production of malleable cast iron fittings in the same year. Even today, the finishing of our fittings is accomplished under the well-known and tradional A.L. trademark.
Our products are manufactured in accordance with DIN EN 10242 and verifiably bear the design symbol A – which is of great significance in the specialised trade for gas and drinking-water pipe installation.
Our quality assurance system is verified by the ISO 9001:2015 Certificate, issued by TÜV Rheinland Cert GmbH on 23 Oct 2017.

---
Service
We fulfill special requests
If you cannot find the solution to your requirements in our catalogue, then do not hesitate to get in contact with us.
---
News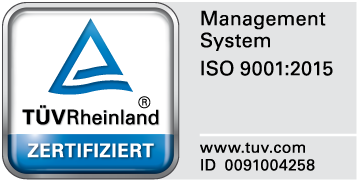 Certificate ISO 9001:2015
4. October 2021
General
By passing the re-audit of our quality management system after ISO 9001:2015 by TÜV Rheinland our company continues to act in the sense of high customer satisfaction and a quality-conscious services.
The ISO 9001: 2015 certificate is available to download for our customers.
---
---